Posted in
At Sea
,
Dangerous
,
Madang Happenings
on October 31st, 2007 by MadDog
This from Mike Cassell:
Don't you just love it when strange news comes from an unimpeachable source?  We received this pukpuk news today from Mike:
It went as follows:  0830 Tuesday I was delivering my boat to Rookes Marine.  Approaching the Navaids wharf I noticed a flat object moving against the current.  I moved closer and realised that it was the head of a crocodile.  He dived and resurfaced and I could then see the whole of his body through the water.  His head was elevated and the rest of his body was at 30° to the sea level.  After mooring my boat I Ken and I went to Fisheries and notified them and then on to the Masonic Lodge block to advise the people there of the danger.  The crocodile was plainly visible from the shore.  At this point he was lying on top of the water with all the top of his body to the tail clearly visible.  We left him in peace.  I tried to contact Radio Madang for a tok savi but they were uncontactable.
The Rumor Machine is churning out length speculations ranging from 8 feet to WOW!  Note that Mike prudently does not mention the length.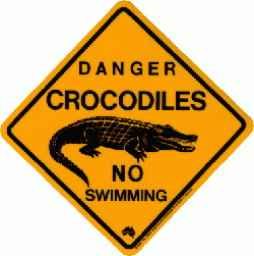 Googling "crocodile" and "Madang" we found an article about a guy called "Crocodile Mick" who wants to show you a crocodile in PNG and let you shoot it for only K670,000.  What a deal!  I'll take two just as soon as I get rich.  You can read about it here.  LINK
Tags:
crocodile
,
crocodile mick
,
mike cassell
,
puk puk
,
pukpuk