This FROM: Lorraine Collins (Text by MadDog)
Aside from all the good work that they do, the ladies (and laddies) at CWA have been partying relentlessly. Recently a double dose of fun was administered to the community in the form of Scottish Night (some wanted to call it NOT Burns' Night) and St. Patrick's Night. Here are some pix from Lorraine:
Among the usual suspects, this mob of mongrels was snapped at the St. Patrick's Night festivities.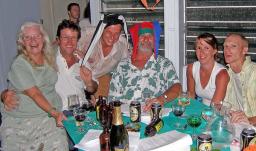 No coverage of the event could be complete without a photo of Irish Dancing. Exactly what this photo has to do with Irish Dancing, I don't know, but look at the clock – it's not even ten yet! It seems to me to be only yet another mob scene depicting The Butterfly King (or is that The King of Butterflies? – I can never remember), the sadly departed Rob Small, surrounded by the usual flitting beauties (or is that flirting beauties). Ah, you've either got or you ain't. Rob's obviously got something.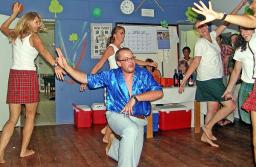 The infamous local character, MacTrevor MacHattersly got caught in drag at Scottish Night. One can only speculate why he's smiling so broadly.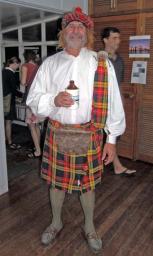 Finally, we must pay tribute to one of the primary party-plotters. Looking like some wild heathen wandered down from the moors we have, the meri i gat namba herself, Lorraine Collins.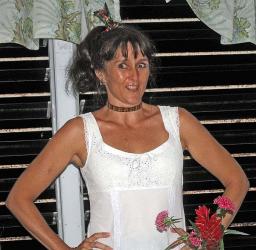 HELP! If anyone has a good photo of Laura Carse "Addressing the Haggis", please send it to me so I can post it. I've seen it done a few times, but never better. It was a thing of beauty and a joy forever. – MadDog
Tags:
butterfly king
,
CWA
,
irish dancing
,
lorraine collins
,
saint patrick
,
st patrick
,
trevor hattersley