Posted in
Madang Happenings
,
Sports
on December 10th, 2007 by MadDog
This FROM:  Shane McCarthy
The two teams that featured in the Grand Final – the Dulux Dogs and the Madang Lodge Turtles – had progressed through a Top Five Finals Series and emerged as the two best teams.

In what was a very close encounter the Turtles triumphed over the Dogs two sets to one. In a strange twist, both teams number ones – The Big Guns – failed to fire, maybe the occasion was too much for them. The deciding set came down to the two and three`s bashing it out for supremacy in Madang.

So, the Madang Lodge Turtles are our Champions for 2007; the Dulux Dogs are Runner Up.

Other awards at the presentation were the Solve-It Sharks: Third Overall; the Dulux Dogs: Most Consistent in Regular Season; and Nick Mleczko`s Potugese Men of War picked up the prestigious N.A.T.A. award.
Thanks to Rose Bukoya and Shane McCarthy for Organising both tournaments this year.
A new comp will kick off in late January – call Shane McCarthy on 852 2499 or email: madang@lbcgroup.com.pg if you wish to enter a team or want more info.
Anybody ever see a motlier mob of spectators? Looks like Tennis Night at Sheila's Caravan Park.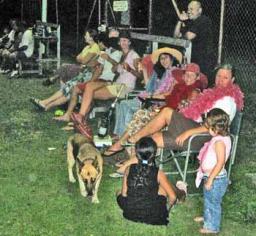 Here's the Runners-Up – the Dulux DOGS looking like fresh-as-a-daisy, ready-to-roll, in-your-face TENNIS TERRORS!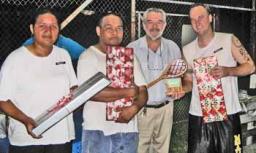 And, not to be left out of course, the Winners – the Madang Lodge TURTLES! [my oh my, they do look weary – ed.]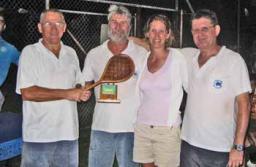 Good job tennis freaks – keep it up!
Tags:
dulux
,
madang lodge
,
shane mccarthy
,
tennis