Posted in
Humor
,
Mixed Nuts
,
Opinions
on February 29th, 2008 by MadDog
Apparently, (remember that I'm no expert on the subject) it has something to do with Telikom's "Failure Assurance" maintenance plan.  The beauty of this plan is that it allows Telikom to collect exorbitant fees while allowing the entire infrastructure to rot and then extending to its customers the privilege of waiting months to get someone to fix a phone.  I have friends who have simply given up.
As you might imagine, I have an example of Telikom's "preventive maintenance" skill.  Here's a junction box in front of my office.  (Click on the picture to see a bigger one.)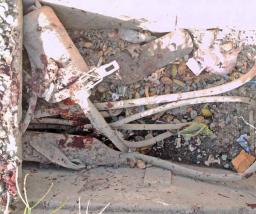 The lid was broken into two pieces, so I don't think I violated the law in lifting it enough to take the picture.  The gaps in the lid are apparently big enough for someone to fall into – witness the shoe!  There is also plenty of room to shoot in a carefully aimed stream of buai spit.  As for the smell – you don't want to know.  And when it rains, it is of course full of nasty water.  Hmmm . . .  Water – Electricity?  I seem to remember that they don't play well together.
Kiddies – Don't Try This At Home.  It's probably not a good idea to go around poking into Telikom's junction boxes for photos.  If anybody bothers me about this one, I'll tell the truth.  It was broken. My foot slipped in.  I was just trying to get my shoe back.  Oh, and by the way Telikom – You owe me K1,000,000,000.00 in compensation for my broken leg.
Tags:
junction box
,
telikom