I'm going to do a series on amusing things that I see in my Garden.
Those who have seen my garden will nod and wink and punch each other's arms saying, "Yeah, sure – His Garden; what a laugh."  Okaaaaay, so its just the dirt in front of my house where our haus meri shoves stuff in the ground to see what will happen.  I know it's not Kew, but it's ours.
Anyway, I'll start with one of our favorites – the sunrises.  Our house faces more or less east, so if I wake up between about 5:30 and 6:00, sometimes it is worth losing sleep.  Here's an example:  (remember, you can click on any photo in this blog to get a larger version)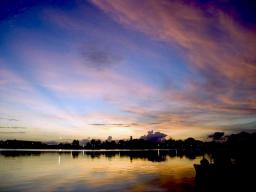 Well, some pictures speak for themselves.
Stay tuned for more vaguely amusing stuff from My Garden.
Tags:
sunrise