Noting that the U.S. holiday "Presidents' Day" was on the 18th of February, I'll take this opportunity to clear something up.  People are always stopping me on the street and saying, "Hey, you look like a Yank.  Who is your favorite President?"  Well, let's just get this out now, so that people will stop wasting my valuable time with this nonsense.
My favorite President is William Henry Harrison.  "Why?, you might ask."  It's a reasonable question and I have a reasonable answer.  First, here's a picture of him.  (As one can see from the picture, he was a formidible master of the sceptical stare.)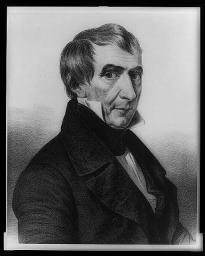 Okay, why is W.H.H. my favourite?  Well, on his inauguration day, a frosty affair in March 1841, he forgot his hat.  He delivered a lengthy but forgettable address lasting 105 minutes.  He also caught a cold.  He spent the next month in bed with pneumonia.  And then, bless him, he possessed the good decency to die without having attacked a single sovereign nation, authored a solitary obnoxious and unenforceable law, or even whipped the nation into a froth of fractious fear.  In short – He did no harm.
So, hat's off to you, plucky William.  You're my American Hero.
Tags:
american hero
,
favorite president
,
favourite president
,
president's day
,
sceptical stare
,
william henry harrison