Posted in
On Tthe Road
on March 31st, 2008 by MadDog
Wow, It's hard to get on line here.  I wanted to do a post every day, but it's been impossible.
The other night we spent an evening with some friends on the side of some mountain outside the city. I took this shot that might amuse you. I always forget how BIG Honolulu is. This is just a tiny bit.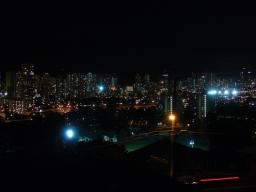 We leave for Indianapolis tomorrow evening (on seperate flights – go figure). I hope to get connected up better there. Adios.
Tags:
honolulu