It's a strange game; Pétanque. We play it after lunch at the beach. It makes me feel so … so … continental. We've had, on occasion, six nationalities between the two teams. When the social lubrication has reached its optimal level, out come the boules. We usually play rusty boules versus shiny. But, first comes the lunch. Here's Mike and Pascal and Rich preparing the victuals.  Mike appears to be supervising. Rich needs a good feed.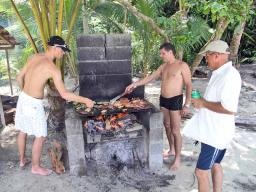 As a Yank, I'm allowed no closer than three meters to the barbie. On special occasions I'm allowed to help build the fire.
Hmmm, yes, we were talking about Pétanque. See, we don't really do it properly. Actually we play Bush Pétanque (nothing to do with George). It's much more interesting. I threw the jack right up against the back of the beach house and it got caught between some ancient roots. Anyway, after everyone had expended their boules, here's how they ended up.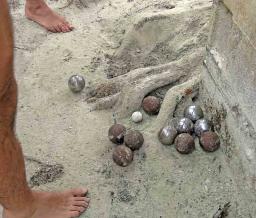 Isn't that fascinating? Aren't you just so happy that you checked my blog today? Otherwise you would never have seen such an amazing sight. Now get back to work before your boss catches you.
Tags:
blueblood
,
mike cassell
,
Pascal Michon
,
Pétanque
,
richard jones