With only three days left before we stumble off to Honolulu, The Mainland, and Canada, and it's Good Friday, and I want to go out for a dive this afternoon, and this cursed rain is bucketing . . . I'm feeling a little down. Don't you feel sorry for me? Sniff, sniff . . .
Okay, I'm over it now. That feels better.
Here's a rainy day picture for you: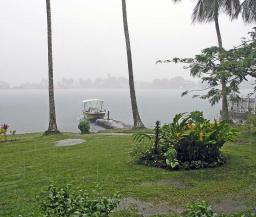 Rain or not, I'm a creature of habit and an habitual nester. I hate leaving my cozy home in Madang to venture out into the great whatever. However, I get to see Hans and Tamara (son and daughter-in-law). I'll also get to remind my granddaughters Philippa Jayne and Audrey Rose that they have a grandpa. It's been four years since I've seen them.
I can see out the window that the sky is lightening, so maybe the day will improve.
Though we'll be traveling, I'm determined to try to put something vaguely amusing here every day. I'm sure we'll see things that tickle my whimsy bone. I'll pass them along to you.
Please, if you have news and/or pictures of interest to our readers, email the information to me and I will post it.
Madang readers – I'll be back on 4 June with Eunie returning on 4 July. Others scattered around the world, keep in touch. I'm not dying. I'm just going to America for a little while.
In the meantime – Keep the faith, baby!