I recently saw a PowerPoint slide show presented by Maureen Hill. She had some very fine photos of her trek to Antarctica and South America with Val Jerram. It was a comedy of penguin and blubbery seals on an icy stage. Maureen's sense of humor was at the boiling point.
I was, however, distracted when she displayed huge boulders that looked as if they had been nearby when Jackson Pollock suffered a conniption fit while carrying a large bucket of bright orange paint.
A sudden and unanticipated wiring alteration in my brain caused small sparks to fly out of my ears, startling the nice ladies on either side of me. The colour splashed on the boulders seemed to be suspiciously similar to the weird orange splotches so common on the flanks of our very own coconut trees! Hey, what's going on here? Antarctica – Papua New Guinea. Hot – Cold. Rock – Tree. What's the connection?
Having, of course, taken a picture of a coconut tree in My Garden (memory like mine? – few other choices), I arranged to have lunch with my well-informed friend Mr. Google. He cleared things up for me . . . to a point.
I don't have Maureen's photo, so you'll have to use your imagination. Here's my snap of the mysterious orange stuff on my coconut tree: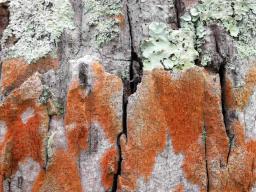 As it turns out, there is a family (actually a genus, but let's not get picky) of lichens called Xanthoria that are remarkably orange. I've always been intrigued by lichens. Hey, we don't have, let's say, dogs and chickens plotting, "Let's mash together and make a whole new thing!" So what's the deal with fungi and algae?
Anyway, I couldn't find a definitive page that said, "Yeah, the coconut bilas in Madang is the same as the Pollock paintings in Antarctica", but my suspicion is aroused that such is the case.
Curiosity now temporarily satiated, I'm musing over the serendipitous fact that if we were invaded by a herd of ravenous reindeer, we would be able to point them to our coconut trees for a good feed.
I also found out that the light green stuff that looks like dried cabbage is yet another kind of lichen. Enough, already
Tags:
antarctica
,
coconut
,
coconut tree
,
jackson pollock
,
lichens
,
maureen hill
,
xanthoria