Posted in
On Tthe Road
on April 30th, 2008 by MadDog
I really enjoy doing daily posts and taking some time to try to make them interesting and funny. But, Eunie and I are flat-out trying to get everything done before we have to leave for Canada on Saturday morning.
I'm still going to try to do a post every day, but it will be mostly photos (sigh of relief from readers).
Eunie's sister, Mary, and her husband Jim have been helping us do a job that would have been impossible without them. Mary is one of those women, like Eunie, for whom nothing is too daunting. She just plugs away at it without complaint until the job is done. Jim is The Prince of Handymen. I don't think there's anything he can't build. When he's done building it, you could drive your truck over it and it wouldn't even squeak.
Here's a photo of Eunie and Mary packing boxes to go into a crate that Jim will build. You can also see the Harley sitting on the base of Jim's crate.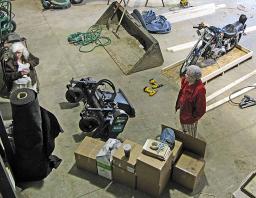 I am helping, mostly by staying out of Jim's way. He has a big nail gun. We're doing all this inside a huge garage where Mary and Jim's son, Mark, owns a major landscaping business. It's so great to have capable and hardworking relatives who are willing to drop everything to help out.
Eunie and I were in a celebratory mood yesterday thinking that this could very well be the last time in our lives that we'd have to pack up for a big move. Everything we own will be in Madang.
Actually, that's not so. We are still looking for a buyer for the Spitfire. Macca, are you reading this? It would be lovely and it's ready to roll, uh, except it's left-hand drive! You could have it for a song if we knew it was staying in Madang so we could see it once in a while.
Tags:
crates