Sounds ominous, eh? No worries, I'm not dying . . . yet. The cold might get me, but maybe not today.
I had forgotten that Chicago O'hare has one genuinely cool feature. As you go from check-in at the domestic terminal to Concourse C there is an underground walkway that has a truly wonderful neon light display. Here's a photo of it that I took at about five in the morning (ugh!):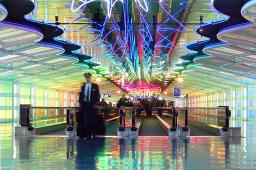 The pattern of lights changes constantly. I tried to catch it at a moment when they were all on. It takes a long exposure, so the camera has to be firmly planted on something solid. You can see that the brave captain getting off the moving walkway looks a little blurry. I hope that is only an artefact of the camera and not his present mental condition.
There is one minor annoying aspect of the beautiful tunnel. A robotic voice (sounds like Hal from 2001 – A Space Odessy) is constantly droning, "You are nearing the end. Please look down." Taken existentially, I don't like the sound of that. Wouldn't it be more comforting if the voice was politely asking one to look up as the end draws near? Of course, in reality, that would probably result in a few sprained ankles a day. It is difficult not to watch the pretty lights and the stumble as you hit the end of the moving walkway can be a little severe if you're not expecting it.
Tags:
2001 a space odyssey
,
chicago
,
concourse c
,
hal 9000
,
ohare
,
please look down
,
robotic voice
,
tunnel of light