As always seems to happen when we leave the safety and comfort of Sweet Home Madang, troubles gather in dark clouds around us. Problems with our only remaining property in the USA are keeping the stress level high. Sometimes it seems very dismal. Witness the scene out our back window: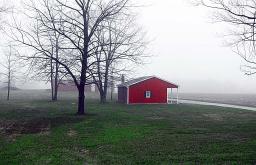 Not exactly what we are used to.
Somewhere there is always light. An old friend who always looked after our animals with devotion and skill that's typical of a fine veterinarian is generously allowing us to stay in a very nice house that he owns. It's better than anything that we ever lived in when we called Indiana home.
Our troubles will shrink as the new grass grows and our worries will recede even as the buds will surely blossom into the new green leaves on the maple trees. It looks a little gloomy now, but spring is coming.
Tags:
brownsburg
,
indiana