We're running around like headless chickens today, so I don't have much time for a post.
I did want to show you a small example of how the trees go crazy here in the spring. I'll take some more shots later and combine several into one post.
Seeing this tree you might think it's covered with red flowers: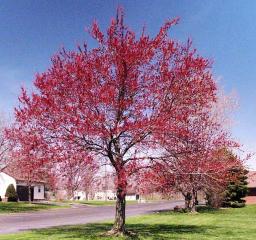 It's not. It is the young leaves bursting out of the little covers that protect them from frost (don't know what they're called). Anyway, the place is a circus of colours now. Spring is coming in with gusto. I actually walked around outside in a t-shirt today! (yes, I had pants on too)
More tomorrow. Don't miss tomorrow's post. I'm going to take you on a visit to Hooters!
Tags:
brownsburg
,
indiana