Rich Jones emailed to me a photo that he took at Planet Rock. I don't often get a chance to see myself underwater. I'm madly chasing a school of barracuda with my camera stuck out in front snapping away. Here it is: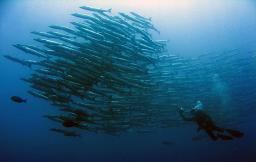 I was thinking about that day and looked back through my own photos to see if I could find one taken at the same time. Luckily, I found one that came out looking okay. Here is what I was seeing as Rich snapped his shot: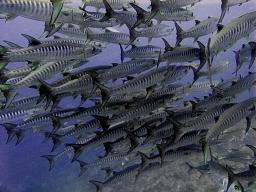 The fish are Pickhandle Barracuda (Sphyraena jello). We have previously called it the Chevron Barracuda and the Millitary Seapike, both of these I now think are species different from this one. Who cares? It's a fun fish to swim with. Despite the reputation of barracudas these are pussycats. On occasions when I can get close enough, I've rolled over on my back and reached up to briefly tickle a tummy. They don't much care for that.
Thanks, Rich, for sending it along. I look forward to being back in Madang on 4 June with my new Cannon G9 and housing.
And don't send me any more emails about seeing Orcas while I'm here freezing off important parts of my anatomy.
Tags:
pickhandle barracuda
,
planet rock
,
rich jones
,
Sphyraena jello