Posted in
Mixed Nuts
on April 25th, 2008 by MadDog
Finding time to post has been hectic for the last couple of days. We had to fly to Dallas yesterday for our periodic grilling by our bosses. No, I didn't get sacked, but it's still a humiliating and disheartening experience to be reminded that I'll never meet the standard. Never mind. That's over for another four years.
Going through all the memorabilia that's been stored in the USA for half a lifetime, we discovered a photo of my dad taken during WWII. When we visited my mom and dad in the place where they live now (called 'assisted care' and not nearly as bad as I had expected) I took a photo of him chatting with Eunie.
Here's dad in Honolulu in 1944:
Here's dad in Indianapolis in 2008: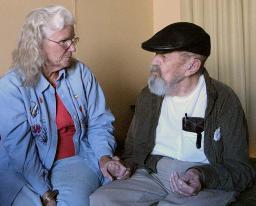 It's a sobering comparison. How long do I really want to live? It depends.
I wish I had something witty to say.
Tags:
dad