I have certainly experienced more miserable episodes in my life, but yesterday will remain fresh in my memory for some time to come. This is how I looked when I arrived in Springfield, Illinois yesterday evening about 7:00: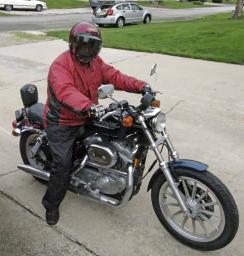 No, I have not gained 70 kilos!
We knew we needed to get two crates built in just a few days before leaving for Canada – one for the Harley and one for all of our other stuff. So, when we looked at the weather forecast, we suddenly realized that we needed to leave on Saturday, because it was going to get impossibly cold and rainy by Monday. We rushed around packing and disposing like mad Saturday morning and left for Terre Haute, Indiana on Saturday afternoon. The ride down there, with Eunie leading the way in the little Dodge something-or-other crammed to the max with all of our stuff was tolerable. It was cold, but I've had worse rides.
We stayed in Terre Haute Saturday night and went to church on Sunday morning to visit long-time supporters. It was COLD! I asked the pastor to put out the word that I needed any warm coveralls that might be available. A kind family supplied them within an hour, along with insulated underwear. I left the church looking about as bulky as the photo above.
We got about a third of the way to our destination, Springfield, (no Simpson jokes, please – that's officially Springfield, Vermont, as I understand it) and, of course, it started to pour down freezing rain. I was pretty well soaked within five miles.
It was one of those situations in which all one can do is keep saying – can't stop, can't stop, can't stop. There wasn't any alternative but to ride on. We were deep in Amish Country, and people in little black horse buggies were eyeing us suspiciously as we blasted past them.
However, God, in his grace, put a little tavern on the corner where Illinois State Highways 32 and 36 meet. I did not think I could stay on the bike for another mile. I was shivering so hard that I had little control and the road was very bumpy.
We stopped. I lumbered behind Eunie through the door and got the usual curious looks from a couple of farmers nursing their Miller's Lites.
I could hardly speak. Eunie had to help me get my helmet off. After explanations of our predicament, one of the farmers said, "Why don't you drive over to the Wal-Mart and get a rain suit?" (I wish I could mimic his accent in print, but it would be impossible.) Eunie did so.
While I waited, I had a Miller's Chill (oh, the irony of that!). I had taken two Panadine an hour or so ago. The gaggingly-sweet beer, together with the codeine, improved my disposition and delivered a much-needed dose of false bravado. I began to feel like Superman. I imagined bullets ricocheting off my manly chest.
Eunie returned in less than an hour with a gigantic two-piece nylon outfit which was presumably designed for Paul Bunyan. It was all that could be supplied. The waistband of the pants reached up to my shoulders. If I ducked my head a little and held them up in front of me, I could actually hide behind them. I managed to get them fastened at the level of my armpits. The jacket was a slightly better fit.
So outfitted, we resumed our journey through the rain.
Now my problem was my fingers, face and feet. The part of my face not covered by the shield felt as if fifty ten-year-olds were shooting at my chin BBs which had been soaking overnight in liquid nitrogen. My boots were full of ice water – I couldn't tell for sure if they were really still there and I couldn't move my head around to have a look. I could just see the road in front of me through my rain-splattered face shield and my gloves on the handlebars. I could only assume that my hands were still inside them.
And then, as if my magic, the rain stopped – and it got really cold!
When I needed to work the clutch lever, I had to look down at my hand and will it to squeeze. My left foot somehow operated the shift lever by moving my whole leg up and down. My right hand, on the throttle, no longer operated at all. It was simply frozen into a death grip. I worked the throttle by lifting and lowering my shoulder and arm. I'm sure that I performed some of the slowest gearshifts in Harley-Davidson history. I prayed that I would not need to stop quickly.
I pulled up beside Eunie at a stop light outside Springfield and said that, if I made it there, I wanted her to get some photos before I got all the gear off. I also said that if I didn't make it, I insisted that she take photographs of ambulance personnel prying my cold, dead hands off of my Harley.
Here I am after she helped me off the bike: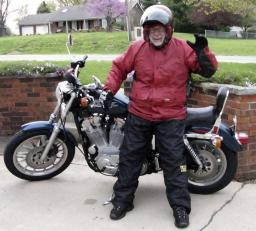 Hapily, Eunie, I, and the Harley are soon to be in sunny Madang.
No matter how long I live, I am determined never to be that cold again.
Tags:
harley davidson