Not much to write about today. We're trudging from Indianapolis to Buffalo via Chicago. Hans will pick us up in Buffalo for the trip to Hamilton, Ontario.
Eunie caught me passed out cold clutching our Toshiba to my body to prevent the dreaded airport notebook snatch (it was also still warm from just being used). I think I look really old. Do you think I look old? Please tell me you don't think I look old. I'm aging a year a week here. Soon I'll be dead. I gotta get back to Madang. My life depends on it.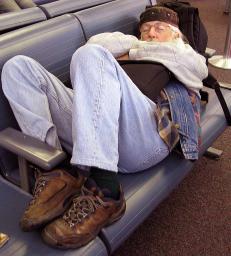 Since I have nothing more amusing to report today, you can watch me snooze. Concentrate on me snoozing. Look into my snoozing eyes. You are feeling very calm and relaxed. Your eyelids are getting heavy . . .
Tags:
chicago
,
sleeping beauty