Posted in
Tattoos
on May 11th, 2008 by MadDog
After the frenzy of anxious activity and fretfulness of a month spent wrapping up affairs in the USA as tightly as we might, coming to Canada has mesmerized me into a blissful state of leisure and an aimless pursuit of pleasure, amusements, and relaxation.
On pondering this amazing transformation, it came to me as in a vision: I need to do something radical to celebrate this passage. Something like a big exclamation point at the end of a chapter! As frequently results when this brain-gut connection begins to emit tiny purple sparks from my fingertips and toes, my reaction was: GET A TAT!
My bemused but loving daughter-in-law, Tamara, was easily persuaded to provide her always excellent artistic talent to promote my lunacy. It is so very sweet – the way she humors me. Her tasteful designs have already permanently illuminated three locations on my leathery old frame.
As with all of my tattoos, this one tangles many meanings and levels of emotion into a concise dermatological statement. As I am fond of saying, "My body is my journal."
Probably the most significant impetus is the recent onset of a spectacular manifestation of Canadaphilia.
Though I've always been distantly intrigued by the vast unknown to the north – mysterious coins in a handful of change, the engrossing radio adventures of the courageous and oh-so-ethical Sergeant Preston of the Yukon and his faithful, longsuffering sled dog – "On, King! On, you huskies!", Canada has, nonetheless, been little visited my me.
I suppose, though I know better, I have always been influenced by the sad American view of Canada as, "Just like America, only with strange money and colder."
Hmmm . . . raving again. Let's get on with it.
I asked Tamara for, "Something that screams CANADA, but in a sweet, mellow contralto." (Okay, that's not what I said, but she got the idea anyway.) She presented me with three delightful maple leaf designs in a Japanese water colour style.
Here's my tattoo artist (Steve from Wylde Tattoos in Hamilton) with the original artwork. Eunie's remark on meeting Steve was, "That's just the guy who should do it."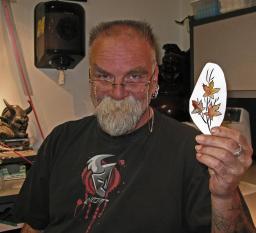 Here's Steve picking out the colours (Note the Tim Hortons coffee cup):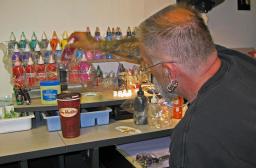 Here's the finished outline: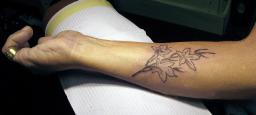 LOOK AWAY NOW, IF YOU'RE SQUEAMISH ABOUT TATTOOS. Now the colours are applied.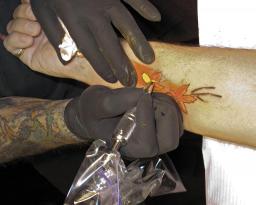 And here's the finished piece the next day: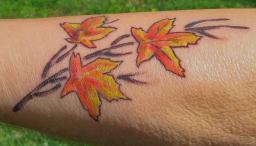 I'm calling it O Canada. 
Thank you, Tamara, for your love and forbearance. And, thank you, Canada, for restoring me. Cold as I am on the outside, my heart is once again warm and serene.
Tags:
canada
,
maple leaf
,
maple leaves
,
tattoo