Posted in
Humor
,
Mixed Nuts
on May 14th, 2008 by MadDog
Sometimes a guy just has to do the right thing. For me, it was a trip to the Bata Shoe Museum in Toronto. It's not that it wasn't interesting. It was, in a surreal sort of way. I just think that a normal man can look at only so many shoes before he pukes. There are four floors of shoes in about eight or ten galleries. I'm not selling it short on effort, investment, class, history, or the many other fascinating factors that resulted in its creation. It's a truly faaaabulous place. It's just that I got tired.
They give you this goofy little clippy thing to fasten to your clothes to prove that you paid to get in. It's not cheap, either. My son sprang for it and it set him back $50 Canadian for the lot of us. Eunie and I got 'senior' discounts. I clipped it on my earring. I got many odd looks. It pleased me greatly. Here it is: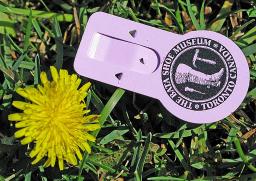 This one will be mostly photos, because, frankly, I'm still nearly speechless. Here is my granddaughter, Audrey Rose, examining a pair of stainless steel shoes that look as if they were designed to instantly lacerate a woman's feet so severely that she'll never desire footwear again: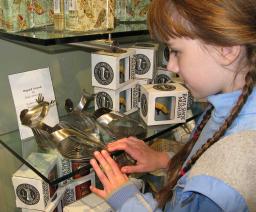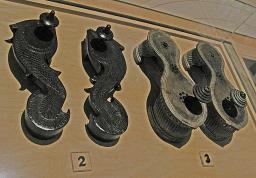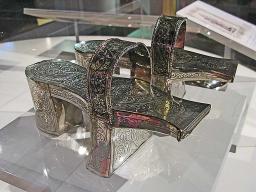 Comfy, eh? What is it with the things that women put on their feet? Bare ones have always been the most appealing to me, but then I'm a little strange.
 Here's my son, Hans, feigning interest (he's a great husband and dad) in something: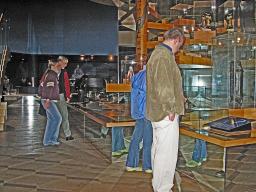 On the train back to Hamilton, when I was feeling less disoriented, I got my trusty G9 out and asked the ladies to make some funny faces for me. They did. I got this shot: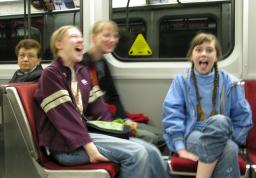 There are a couple of interesting things in this photo. First, I love the G9 for its amazing available light capabilities. It will shoot in low light at a shutter speed just fast enough to get the shot, but still let motion speak – so much better than flash. I like the bit of blurriness that gives life to the photo. I also note that Philippa Jayne (Pippa) seems to be coming unglued. Tamara, as usual, is bemused by her father-in-law.
Then there's the nice lady on the left. Her expression is priceless. You've got to picture me sitting there in my Nanook of the North outfit (I'm always cold) with my long, wild Cherokee hair looking like a scary halo and my Turkish Gypsy hat topping it all off. She must have been spellbound.
The family conclusion seemed to be that, throughout history and across the planet, the indigenous North Americans seem to have produced the most practical and beautiful shoes of mankind.
Hans and I are going to get even when I get back from Boise. We're having a family outing to the Warbirds Museum.