I've been looking forward to visiting Rebel's Rock Irish Pub since Eunie told me about going there with Hans two years ago on a musician's night. I'm told that these events are designed to recreate the 'kitchen party' atmosphere which is an informal gathering of musicians, often, literally, in someone's kitchen – very popular in this part of the world. This is a photo from across King Street: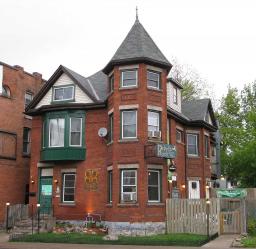 Rebel's Rock is owned by a female Toronto Police Officer, Kate Chapman, originally from Northern Ireland. There's an interesting history of the place here. This is a shot of the bar area: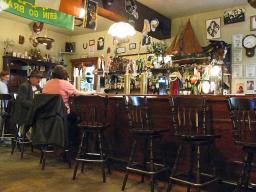 The whole place is contained in one rather small room. I'd be surprised if you could cram more than forty people in there. I'd just eaten an hour before we went to the pub, so I didn't sample the fare. By all accounts, it's excellent. I did manage to deal handily with a pint of Kilkenny, an absolutely wonderful Irish cream ale. It's medium dark and a bit chocolaty from the heavily roasted barley. It's not as strong and overpowering as Guinness (which I don't like), but the head is Guinness-like and it's superb – as smooth and thick as full cream. We settled back to wait for the musicians: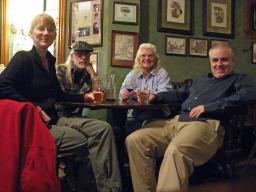 I don't know why I expected to get an evening of Irish tragedy lyrics. Sometimes the obvious is not what happens. Instead, what we got was an eclectic medley of folksy-to-rock '70s-to-'80s numbers that settled into wave after wave of pleasant reminiscence.
The delivery was off-professional, in your face – we're having fun so we don't care, sing along if you like, and thoroughly enjoyable despite the occasional off-key note or forgotten lyric. Here's a shot of nearly the entire place with us mellowed out at one end and the earnestly striving band at the other: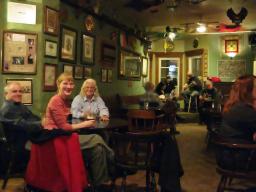 Since I wasn't using flash and the musicians seemed oblivious to me, I decided to get up-close. This is my favorite shot of the night: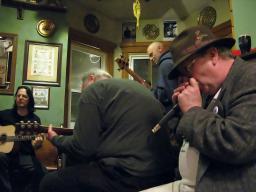 If you get to Hamilton someday, here's a spot where you can enjoy a pleasant evening and not drop a wad of cash doing so. Bring some friends. Bring me.
Photographer's Note:  This is pushing the limits of available light with the Canon G9, at least for me. It was dimly lit in the room. I did most of the shooting at f2.8, 800 to 1600 ASA, and got shutter speeds of 1/6 to 1/8 second. Obviously, you've got to have the camera firmly braced against something. I took dozens of exposures of each composition. I could then choose the one that looks best. When you're not using flash, you don't need to worry about spooking your subject. Opening the image in Photoshop, the noise looks hopeless. A great filter to deal with this is NoiseNinja Professional. These available light shots were all massaged with NoiseNinja. It's cool to discover the secrets of the National Grographic dudes.