Posted in
Mixed Nuts
on May 24th, 2008 by MadDog
I was astounded, previously ignorant that there were so many Canadians that could fly an airplane (one note of self-deprecating sarcasm before getting serious), by the Canadian Warplane Heritage Museum at Mount Hope near Hamilton, Ontario. I've been in many aircraft museums, having no small interest, as I was myself a helicopter pilot. What it lacks in a massive collection, it makes up for in sheer class and dedication to make as many of these old war birds flyable as possible. Here's the entryway tribute to the heroes of Canadian aviation: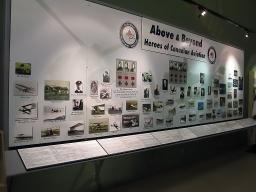 This is very much a working museum, all managed and operated by dedicated volunteers. In fact, you have to navigate around the roped-off areas where people are working on restoration projects or maintaining flyable machines. Even as we walked around ogling fascinating bits of living history, the hangar doors trudged open and out rolled a Firefly towed by a small tractor. They fired up the engine – what a sweet sound to an old man who heard the war birds as a kid. After revving it up, they unfolded the wings: 

Inside, a mechanic was working on a Lancaster engine. This is the largest aircraft in the collection. It's flyable and they fly it regularly. Many levels of membership are available. The Bomber Crew Membership at $2,000 (Canadian, of course) allows you a one hour flight in the Lancaster – a great bargain for any aviation enthusiast: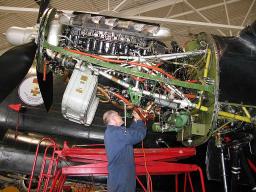 Several of the restored aircraft are open for your inspection and seating. In this photo Hans shows Audrey Rose how the controls work: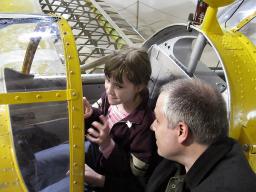 As an adoring grandma looks on (this woman could NOT be sixty-three years old!):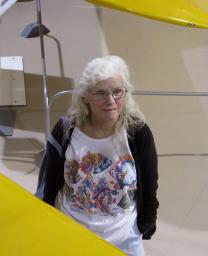 Here a volunteer (ninety years old) stands by while Hans eases into the cockpit of a CF-100: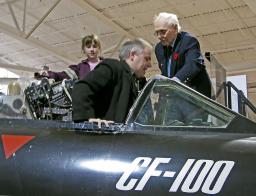 If you like airplanes or history, this is the best ten bucks you'll spend in Ontario.