Posted in
Under the Sea
on June 17th, 2008 by MadDog
On Saturday, I got the first good chance to try out the new Canon G9 in its underwater housing. For moderately priced gear, I have to say that, so far, I'm very happy with it.
Here's a little nudibranch (a fairly rare one). It's about 2 cm long: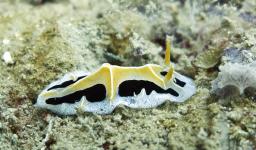 A huge numbers of megapixels (12) and a very sharp lens combined with a very good macro capability (able to get very close to the subject) is a combination that is ideal for small subjects.
This tiny shrimp, about 2 cm long, is a good example. I've never before had a camera that could give me so much detail up close. I you look carefully at the shrimp (as always, just click the picture for an enlargement), you can see it's a mama carrying a clutch of eggs. Look to the right of the bright marking on the back and you will be able to make out the individual eggs: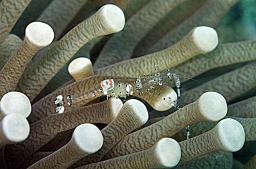 I took both of these shots without flash. I like that, because using flash is always a pain for me.
Stay tuned for the next few days, please, while I get my life back under control. I want to get back to posting every day.