No, heaven forbid, I'm not back in Chicago. I just need to catch up with myself.
I ended up at the Hilton by sheer luck. I can't afford it. My internet-placed reservation turned out to be for a (much cheaper) hotel that was close to Midway, not O'Hare. It was certified to have an 'airport shuttle'. Too bad for me that there was no shuttle to it from O'Hare. I flew helicopters for years out of Midway Airport. So, I was feeling suitably stupid.
Here I should mention that I made the reservation myself. Eunie would never have made so straightforward a blunder. When she blunders, it's always insufferably elegant – and rare.
Anyway, a sweet and merciful young lady took pity on me. When I asked her if I could get a room, the price came back at $259. When I looked suitably dejected, she immediately got on the phone and cancelled my reservation at the other establishment. I was horrified at first, thinking only that I now faced a night and most of the next day on a bench somewhere in the bowels of the terminal.
Then she smiled and handed me a crumply little piece of paper with $119 handwritten on it. She didn't say it out loud. I was attacked by a sudden urge to leap over the counter and hug her. Chicago cops frown on that. I told her respectfully that she was a treasure and thanked her for her kindness.
Settled into the now not-so-pricey Hilton, I had time to kill. How better to do so than to take my trusty companion hunting? I stalked my prey mercilessly. I love shooting at night without a flash. Out of about two hundred shots that night, I'll show you the ones that pleased me the most.
There's little about O'Hare that's aesthetically pleasing (except see my Tunnel of Light post). At night, however, it does take on a sort of industrial charm. This shot is from down near Terminal 3 just at last light – that's the Hilton looming on the left: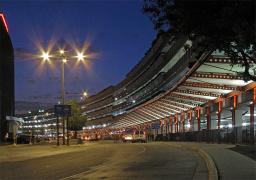 From the other end of the street, it's even drearier. Where are the people?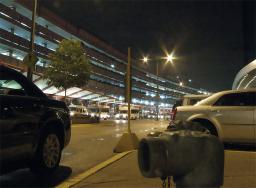 Going back down in front of Terminal 3, things are picking up. The bustle of traffic adds to the visual appeal: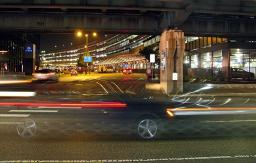 And yes, people are all about. Standing, waiting, thinking, worrying? Loneliness and melancholy intrude on the scene: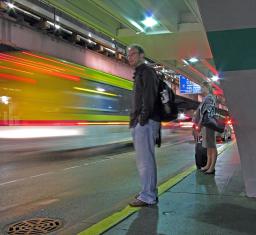 I stood in this area for about an hour taking surreptitious photos. Those that noticed were amused rather than alarmed. Four years ago, I'd have had cops all over me.
This lady was there the whole while. I felt compassion for her. Someone was obviously very late: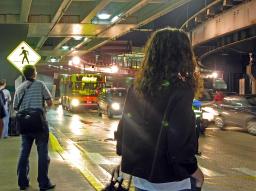 Back down in front of Terminal 1, the late night hustle was full on.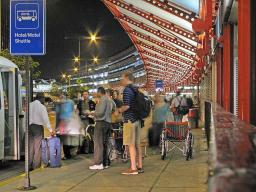 Needing a rest, I retired to the swanky Gaslight Club at the hotel. I had an excellent salad and this lovely nightingale serenaded for a couple of hours: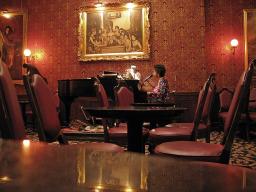 All in all, not a bad night for being stuck in Chicago.