Posted in
Divine Word U.
,
Mixed Nuts
on July 31st, 2008 by MadDog
Since Telekom seems determined to prevent 21st century communications from ever being a reality in PNG (it's always 'coming soon' but never here), I was desperate to get an internet connection today. Telikom's link out of Madang is out for the second day in a row.
I went down to Divine Word University to check it out. I hate to do a post without a photo, so here's the inside of their nice, but toasty-warm library: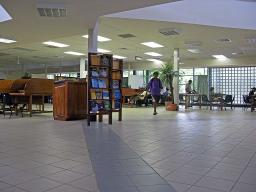 You can get a pretty good deal on internet time if you're willing to shell out K110 and you have a wireless equipped notebook computer.
First go to the main library desk and get an application to become an External Borrower. Fill it out and then go to the main administrative office to pay K60. Take your receipt to the IT Services building behind the library.
They will relieve you of another K50. This will buy you one of two plans. One plan gives you five hours with an unlimited amount of download. The other one gives you 300MB, but you can take as many hours as you like to use it up.
Either way, they will issue you a login name and password. All you have to do is fire up your browser and connect to a website. A login and password will pop up to allow you access to the internet.
That's a pretty good deal by PNG standards. Our Global Technologies dialup rate is K.95 per megabyte plus Telikom charges. Our Global Technologies leased-line rate is K.45, again with enormous Telikom charges. The DWU deal works out to about K.17 per megabyte (if my arithmetic is right) for the 300MB plan and practically ZERO per megabyte (well, depending on how fast you can drag those movies in) for the five hour plan.
It's pretty zippy, too.