See, here I am: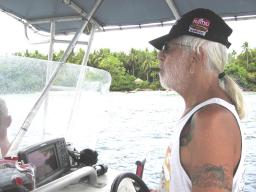 I'm just extremely lazy and unmotivated.
After a flurry of posting activity while travelling to North America, I've lapsed into a state of lethargy.
I've had a couple of inquiries from my precious few readers as to "what is my problem?" Pure bone laziness is the answer.
There is hope for Madang – Ples Bilong Mi. I just have to get my writer's discipline back. (A swift kick in the bum would help. If you see me on the street, feel free. Just give me a little warning.)
For a while there I was looking at the daily statistics to see how many people were reading. I'd forgotten my promise to myself. It wasn't supposed to be about how many or who. It was supposed to be about writing and taking photos. It was supposed to be about trying to be a little creative. It was supposed to be fun.
Part of the problem is the change of venue. All sorts of things were happening while in N. A. Now, though I'm delighted to be back home, the muse escapes me. Life is back to normal. I must rediscover the treasures in that.
Hopefully, now that I've demonstrated that I haven't died yet, neighbors will begin to send news items to me again.
You send it – I'll put it out.