Yesterday, at the beach, the kids were doing their thing. As it is with all kids everywhere, nothing is safe from intense examination.
The first interesting catch of the day was this seahorse. They are very common around here, but this is an unusually large specimen: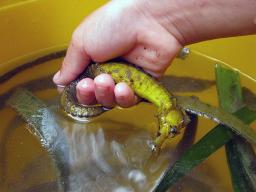 Lizards are hard to catch, but no match for quick little hands: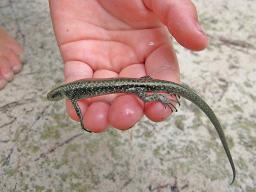 This rare little critter is a cowfish: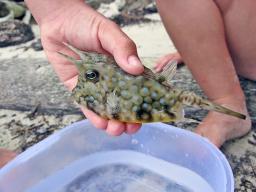 Its fins and tail are its only mobile parts. Its body is hard and immobile. I was glad that the kids caught this, because I'd never seen one.
Though some might cringe at all this handling, I can see a positive side to it. Looking at something in a cage or aquarium is quite different from feeling its life in your hand. These kids have been taught to be gentle, to understand their responsibility not to hurt, and to always, always return the critter carefully where they found it.
Is it better not to touch at all – just look? Of course it is. It's safer for the kids and the creatures.
However, I think that there is also value in this alternative. These kids will have a respect for living things born of intimacy with them. When they leave behind their childish urges to grasp and hold maybe what will remain will be the memories of the magic they felt. Maybe they will be more respectful and considerate of all life.