I have nearly reached my chaos endurance limit, but I'm not quite there.
I usually promote the premise that "clutter is our friend". Neatness looks nice, but it usually means that most of the things you need "right now" are not close at hand.
What we usually call "clutter" (I'll stop doing the " " finger waving now, since you know we're talking about something called clutter) is actually a serendipitous optimization of a principal axiom of labour efficiency maximization, e.g. you can work more efficiently if what you need is close at hand.
It doesn't matter as much as sparks in a cowboy's campfire* if it's pretty or neat. What matters is that you can reliably reach in some known direction to some known distance (your acquisition vector) and place your hand on what you need (sort of like dating, if you know what I mean).
Where the rub comes in is when you know the required object or substance is close at hand, but you still can't find it because of the sheer density of the objects through which you must search.
My personal quest is to discover the optimal clutter density. I would not want to represent myself as an expert in the matter, but I do have field experience. My laboratory is at my workplace.
Here is my latest experimental setup: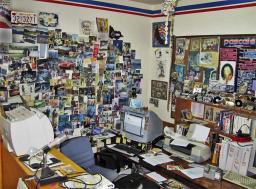 As you can plainly see, it is my office. Okay, it's not really an office, it's a corner. But, it's MY corner.
Though it looks cluttered, it has not reached a chaotic state. It is, however, very close. In fact, it is so close that I am afraid to move anything. If I move one thing, it might throw the whole assemblage out of kilter. I might not be able to find anything!
Because my amusement quotient is low this week, I challenge any reader to send me a photo of your office claiming that it is: (a) more cluttered, but not yet chaotic, or (b) has passed beyond helpful clutter and has entered into the formally chaotic state.
Since this is a contest (sort of), it needs a prize. Since I will post any pictures I receive, that can't be the prize. SO, let's see . . . how about this: If I judge that your office is the best example of (a) or (b), I will compose a poem for you and post it in your honour. If that doesn't get your juices flowing, I don't know what will.
*I plagiarized this phrase from Kurt Vonnegut