My quest for fun is remorseless. I've craved a decent microscope since I was a kid. I did, at one time, have one of the cheap toylike devices that are impressive until you take them out of the box and try to see something through them.
I don't want to look at anything challenging, such as bacteria or viri. I just want to go beyond the magnification I can get with a good camera and a close up lens (what photo geeks call a macro lens).
I found an interesting device on the internet called the DinoLite USB Microscope. The price seemed okay. The sample photos were likewise interesting. The device is very versatile and can be used hand-held in a pinch. It has built-in LED lighting.
It plugs into a USB port. The accompanying software allows you to take photos through it – even movies! The software also allows a great deal of control over the quality of the photo you see on your screen.
Here's a photo of it sitting next to our computer on our messy desk: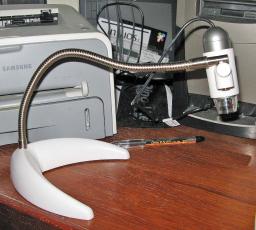 When I got home this evening I foraged my garden for an easy test subject. I had to walk only a couple of metres from my veranda to find some fine hibiscus reproductive gear.
After a few minutes spent finding some black velvet and fooling around with the lighting (I used an LED torch for supplementary lighting), I had a decent enough photo of something suitably tiny. Hooray! Here is the business end of a white hibiscus flower: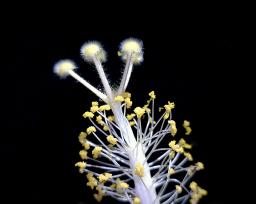 The operation of the DinoLite requires a bit of patience. The gooseneck thingy on the stand is wobbly and focusing is difficult to manage. But, WHO CARES? It's COOL!
Moving in closer and fiddling some more, I managed to make it bigger: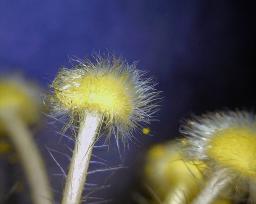 How about a red hibiscus?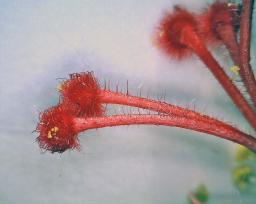 Hmm, it's all hairy. There are a few bits of pollen sticking to it – just what they're supposed to do. There's some serious fertilization going on here. (Rather there was, until I plucked it from the middle of the blossom.)
That pollen is coming from here: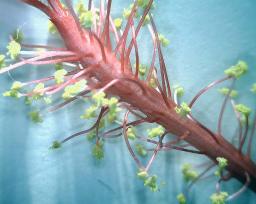 Whoa! This is going to be major fun.
I'm eager to try the DinoLite out on marine organisms. In fact, that was my main reason for purchasing it.
I'll try to restrain myself from flooding the blog with too much science content. The yawn factor could be uncontrollable.
Stay tuned.