On Saturday, we went to Sinub Island to dive the Ninsa 2. I hadn't done that dive for about fifteen years. It's not a pretty wreck. The water is often very murky in that spot.
You also have to fool around to find out who to pay to dive there. It's operated by some mob calling themselves the Sinub Island Marine Wildlife Management Area. That's one of the reasons that we don't do it more often. We paid K10 at Jais Aben Dive Shop, but the information we got there was that the arrangement wasn't working very well. As usual, people are fighting over a pittance when, if they got their act together, they could be fighting over much larger amounts (if that sentence makes anybody angry, well, if you can't take a joke . . .)
Usually the diving photos you see are taken in good conditions and are the best of hundreds of shots. They don't reflect the real conditions that divers encounter most of the time – poor light, dirty water. I took this photo of Pascal from a distance of about 1.5 – 2 metres. As you can see, the water is anything but clear. This murky water and poor light lend a creepy feel to the experience, especially around wrecks: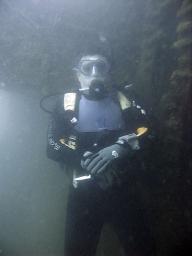 Even with the nasty water, if you keep looking, you'll usually find something interesting.
On the sand beside the wreck, I found this seven-legged starfish. Although some starfish have many legs, this kind usually has the standard five. I've seen this kind with six legs, but this is the first one I've seen with seven. You can see that two of them have been bitten off and are regrowing:
By the way, are they legs or arms? Many people say arms. I disagree. They are legs. You don't walk on your arms, do you?
We found a group of lionfish near the bow in shallower water. I did manage to get a few shots that I could clean up with Photoshop to make them presentable. Here's one: (as usual, click on an image to get an enlargement)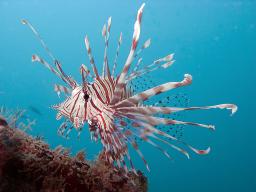 I just can't leave well enough alone. Photoshop has so many quick and easy ways to stylize a photograph. Here's a glowing edge filter – very new-age: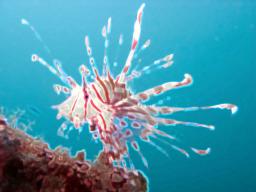 This filter is called dark strokes: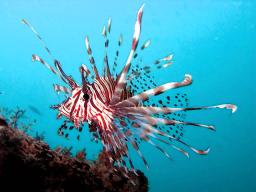 For the lionfish, this is the one I like the best. It's called outline. I wish I had the artistic talent to draw like this. With Photoshop, I can fake it easily.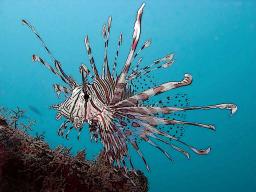 Enough fun for today. I still have a job.