We went to Trevor Hattersley's house yesterday evening for dinner. We had heard that he had a 'special present' for Eunie for her birthday. I wouldn't think twice about that if it was anyone else, but Trevor has a knack for gift-giving. The one thing that you can count on is that it will be out of the ordinary.
I knew that Trev had some artistic talent, but, being pretty busy, like most of us, it's hard for him to find the time to express it.
Well, have a look at this: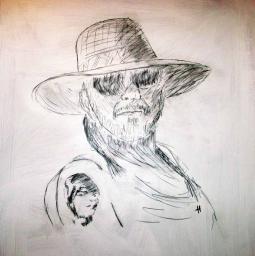 You might remember the photo that I had at the top of the sidebar. Trevor did a huge sketch of it for Eunie's birthday present – complete with a picture-in-a-picture of the tattoo of Eunie that's on my arm.
I think it's an ultra-cool gift. I really dig the style.
Now all we have to do is figure out where it will go in our museum-like house. It's already stuffed with artefacts, art, books, knick-knacks, and my fabulous accumulation of rocks, shells, twigs, empty bottles and what-not that I've picked up from interesting places all my life. I call it an accumulation because the word collection implies a plan – there's no plan here. Still, we have to make room for such a thoughtful gift.
Something's got to go.