So, you think that you have a big dog, eh?
Pepe came from Karkar Island. They grow them big there. I don't know how old she is. I'm afraid to ask her. She lives at Trevor Hattersley's house, though I suspect she could choose to live wherever she wishes – it's the 500 pound gorilla thing.
When we were over to Trev's place the other night I wanted to get a photo of Pepe that would illustrate her enormous proportions. For instance, her front foot is the size of my hand.
I asked Karen Simmons if she would lie on the floor next to Pepe (hey, it's Madang) so we could see how big she is – Pepe, that is. Many giggles later I got this shot: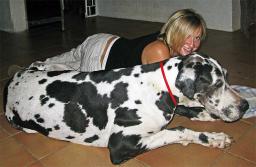 She's magnificent, isn't she? And, Pepe is cute too.
So, my advice would be that, if you feel the urge to get into the 'my dog is bigger than your dog' thing at the club, make sure Trevor is not within earshot. He'll likely trump you.
Woof.