I like cats. Their disdain and aloofness eerily comforts me. When my dog wants to be petted, I pretty much have to go along with it. I don't want to hurt her little doggie feelings. She simply wouldn't understand.
A cat, on the other hand, is the emotive equivalent of a brick. Pet it, don't pet it – it doesn't matter. If it allows you to pet it, that is. Rarely will cats show any reaction to rejection. They don't lie on the floor and whine and roll their eyes at you as a dog would. Like this: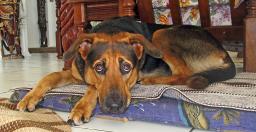 A cat walks away with a sniff and a twitch of the tail.
Most cats simply don't care.
On the other hand, we once had a cat that, if offended by spurning when it offered its tattered ears to be scratched, would claw its way up your chest (excruciating pain here) and sneeze energetically in your face.
But what happens when your little tabby is surreptitiously replaced by a cat-disguised alien? We ourselves witnessed just such a happening.
Trevor's cat had, earlier in the evening, displayed her usual demeanour when I petted her by scratching and biting my hand until the blood flowed freely and I was dancing from foot to foot trying to get my hand out of her clutches. This is normal. I'm used to it. It's her cute little way of saying, "Hi, how you doin'? Now get outta my face, creep!"
After dinner, we nearly evacuated the veranda when the alien substitute showed up. Look at this: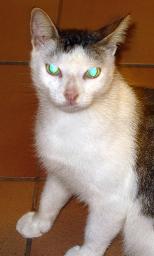 Now the once merely evil cat has become Berserker – Destroyer of Worlds.
Please, I beg you; send me photos of other suspicious felines. We need to gage the magnitude of the alien invasion so that we may report it to the proper authorities.
If you think this is a joke, check out an article in the London Daily Mail in which a former Minister of Defense warns that "aliens could attack at any time!"