Since I had to work on Saturday (I'm typing this while I'm supposed to be paying attention in a meeting), we took Friday afternoon off to dive. In the evening we went out for a night dive and then dinner at Jais Aben Resort. I'm not really complaining about having to work on Saturday, since it's the first time in maybe twenty years.
I love to get out on the boat in the evening because sunset photos excite me irrationally. Yesterday evening was no exception. It was a spectacular 360° light show.
In the west from the Tab Anchorage, we saw a towering cumulonimbus incus lit from behind. Corpuscular rays painted geometric lines with light: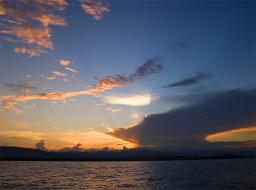 To the south a cumulus congestus got all lit up with the glow of the sun's reddened rays: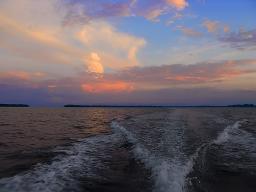 Looking east, we saw corpuscular rays tinting the clouds. Yes, that's right – we do see spectacular sunset effects in the east: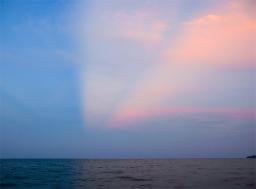 All this activity was in aid of sending our Carol off for a well deserved three month holiday. Here's our little family of vagabonds and eccentrics partaking of the fruit of the vine: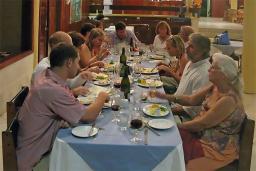 Life in Madang can be most agreeable.