My mind was utterly blank this morning. Posting daily is a discipline for me. I reckon that if I want to write well, then I have to do it every day. I call myself a guitarist, but I never practice. So, I play so poorly that nobody would want to listen. Even me. Especially me.
I got to thinking about a curious fact. Of the hundreds of posts I've done, the one that consistently gets the most hits is about Clyde Barrow and Steve McQueen sharing the same birthday. There are consistently twenty to forty hits a day on that single post. Obviously (I can tell from the statistics), this is due to people Googling Steve McQueen.
So, my bitter and twisted mind began to wonder, "What if I wrote about someone famous? Would that have any effect?
Well, let' see.
I don't know exactly how Britney Spears and Sheba's (our dog) tongue somehow got wired together in my brain. Rats have chewed the wiring in our house. Are there brain rats that chew up the insulation? Do you smell smoke?
Sometimes these things just happen. A misspent youth.
Anyway, I remembered how cute George Bush looked wearing Sheba's tongue and decided to improve Britney's always stunning countenance with a few minutes of Photoshop labour.
I call this one "Britney – The Girl Next Door" Don't you think this is better?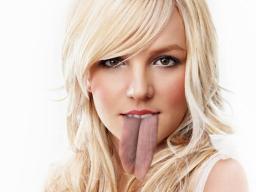 And this one is "The Babe I Met Last Night and Decided Not to Ask Out"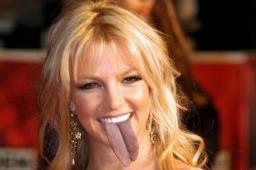 This one is my favourite. I call it "The Girl of Iggy Pop's Fantasies":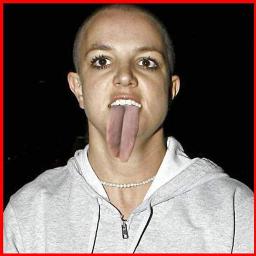 As I was working on the last one, Stevie Wonder's song "Isn't She Lovely?" was wafting through my ganglia like a summer breeze.
Now I'm feeling guilty. How would I like it if people made fun of me?
Hey, wait a minute. People do make fun of me.
Just the other day a close friend who used to be "in the theatre" said to me – having observed all the dangly bits hanging off my belt (camera, cell phone, keys, two USB flash drives), "You look like a stage manager." Is that an insult? Is it funny – was she making fun of me? I can't tell.
Anyway, I do feel guilty about poking fun at Britney. It's all too easy and a cheap shot to make fun of those less fortunate than ourselves.
I hope I don't get sued over this.
(I managed to get the names of seven famous people in this post. Was it obvious what I'm trying to do? I hope not. Google knocks you back for 'stuffing'.)