Posted in
At Sea
,
Humor
,
Photography Tricks
on August 31st, 2008 by MadDog
A few nights ago we were out on Faded Glory for an evening of relaxation and recuperation.
I was taking photos of the sunset. I must have thousands of sunset and sunrise photos. It's an obsession. I can't stop doing it. Thank the merciful Lord that film is dead. Digital has saved the family fortune which would otherwise have been blown on thousands of rolls of film which would have been developed, printed, scanned into a computer and left invisible (mostly) to the rest of humanity.
With digital, I still have thousands of photos that nobody will ever see (like my short stories and poetry), but I have avoided the ruinous expense of all that film!
Anyway, that's not what I want to rave about today.
Tristan Clements of World Vision is a young photographer with great eyes and a quirky imagination. While I was snapping away earnestly attempting to get the penultimate sunset shot – one that National Geographic would beg from me – Tristan stole the evening!
I kept seeing a camera flashing somewhere behind me and I thought that the kids (I call them kids because everybody but me looks about eighteen) were fooling around in the near dark snapping embarrassing pics to email around to their friends.
But no. Tristan was taking photos of me taking photos. Finally, when I wouldn't pose just right he said, "Hold your camera up like this!"
And this is what happened: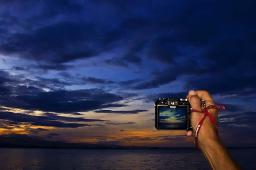 It's the coolest sunset photo that I think I've ever seen and I didn't get it!.
If you want to see some of Tristan's excellent photography, go to his Flickr thingie here.
Oh, well.
All this reminds me of the other time when I felt I'd missed the boat, photographically speaking.
For months and months I submitted my UW fish Photos to the UnderwaterPhotography.com website's photo contest.
Some of my photos got good reviews, but there was one that everybody raved about. I had only entered it into the contest for fun in another category.
You know what? I won second prize (a chintzy little silver medal) for 2005's best above-the-water photo for this: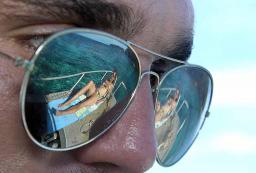 Some of you may recognise Amanda Watson's reflection in the lenses.
Reminds me of the old Stones song, You Can't Always Get What You Want.
I try all the time. I usually get what I need.