Some days are better than others.
Saturday we went to Leper Island. Yes, it was once a leper colony.
We've gone to the south end inside the reef a few times before and had good luck. This time it was not a great dive. We went to an area that we'd not visited before and it was poor hunting.
I finally found an anemone. It had only one anemonefish. I took a shot anyway: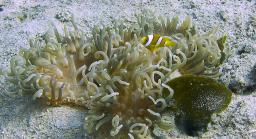 Then I found another anemone. The fish refused to pose. Perhaps they were sulking about something. I tried shouting to get their attention. It came out like "Blubba glugga glurggle glob!" (translation: "Hey you two – look over here!") They ignored me: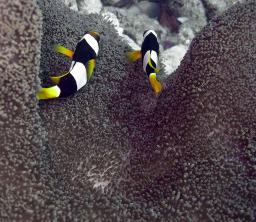 I finally found an anemone that seemed promising – lots of fish and they were watching me watching them: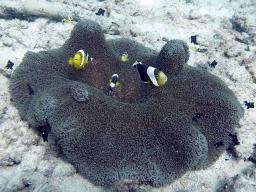 But, hey! The big one is a fighter. His mouth is all messed up. He seemed to be saying, "You should have seen the other guy!":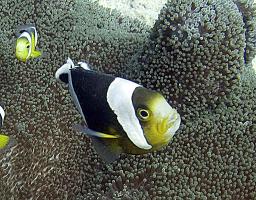 Then there was this weird thingie. Like a leaky balloon full of water. I think it's some kind of colonial animal, maybe some kind of salp: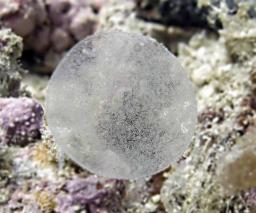 A big worm with orange whiskers around its mouth: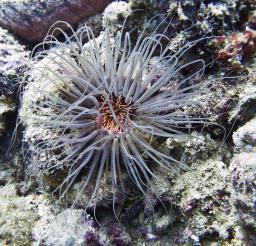 And this animalus horribilis. This is the hungry end of a prickly sea cucumber. The arms flail around grabbing food which is then stuffed into the mouth in the middle. Don't stare at this too long. You could have nightmares: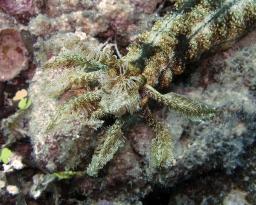 Back on the boat I started playing around again with my camera and my brown polarized sunglasses. I got this interesting view of Madang from Tab Anchorage. You can see the rich folk's yacht Andiamo anchored off Kranket Island.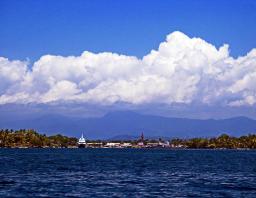 Fooling around more, I snapped this rather dramatic example of just how much you want to have the brown polarized sunglass when you're going to sea: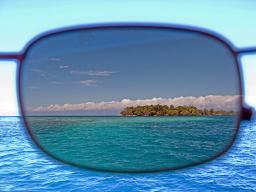 I'm lucky that I'm so easily amused. Simple things for simple minds.