PNG Power is doing everything but supplying power. Telikom is doing everything but supplying communications. Our very expensive Cummins genset starts beautifully and runs for ten seconds before sighing and rattling to a halt.
No point at all in being at the office. No power, no air conditioning, no internet, no water, no working toilets.
So, what to do?
On the way to use the still working facilities at Divine Word University, I stopped at Machinegun Point to photograph some folk playing in the ocean.
Here is a trick that I've never thought of: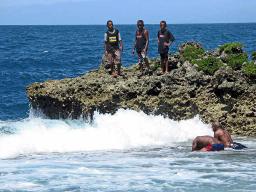 These fellows were positioned just on the edge where the waves break the highest. When a wave came in, they would duck their heads and let it rush over them: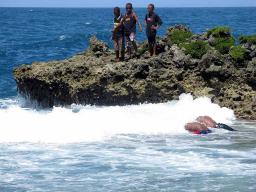 I came very near to stripping down to my skivvies and joining them. It looks like a lot of fun.
If it had not been for the notebook computer that I would have had to leave in the car, I would have gotten refreshingly wet and forgotten my frustrations for a moment.
All of the kids got into the water to holler at me for a photograph. This mob travels with their dogs. A few moments before all of the dogs were also in the water playing: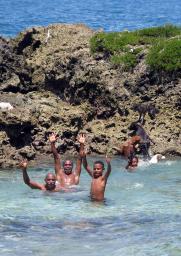 Ah, Madang. No matter how tedious it becomes by way of stinking rotten infrastructure, there are a plethora of diversions to take one's mind off the worries.