THIS FROM: Richard Jones 
My good friend Richard Jones recently returned from an 'expedition' to Mt. Wilhelm. He was accompanied by Mark Clark and Sarah Maccana. The photos in this post are by Mark and Sarah who kindly allowed me to post them here.
My ignorance of the geography of the area precludes me from telling you anything about exactly where the photos were taken. Nevertheless, they are beautiful and revealing. I'll let them speak for themselves.
The scenery along the road is spectacular enough: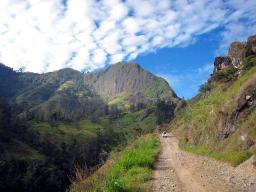 Here is Rich with his high-tech walking sticks by a splendid lake: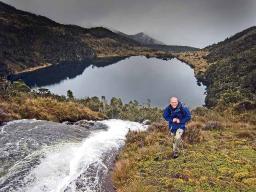 This is a classic 'upside-down' mountain shot: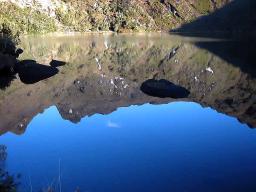 These are the shots that I appreciate most. I'd always heard rumours that there is occasionally snow up there. Here is the proof: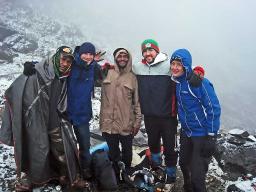 I don't know if this one is making camp or breaking camp, but it looks mighty cold to me: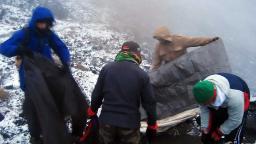 I am so grateful that these brave souls made the trek and brought these terrific photos to me so that I can show them to you.
We didn't even have to get cold!