Some of us trudge with grim determination through the week so that we can (eventually) arrive at Saturday.
If you've been reading, you know that our little gang of water babies goes out on Faded Glory every Saturday for diving and relaxing in the sun.
My camera goes with me always. Underneath or above the water, there is beauty to be seen and captured on silicon.
Over the months I've shown you the beauty of our spectacular local scenery on terra firma, the sea, and under the sea.
However, it is not all sky, trees, birds, flowers and fish.
We were relaxing on the boat after a dive when somebody yelled, "Grab your camera!"
Our lovely Jenn was enjoying a float in the crystal waters near Pig Island.
Here is one of the shots that I snapped: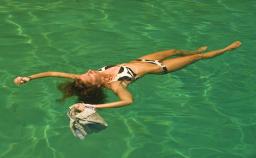 It is certainly a nice snapshot, but I am never satisfied. With a few elementary Photoshop tricks we can turn a pretty snapshot into something entirely different.
Have a look at this: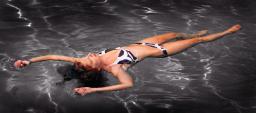 If you're interested in how it was done, here's a short description.
First, the colour of the waster was very green because Jenn was floating above a sandy patch. I tried making it blue, but it lacked punch. I created a selection containing only the water and converted it from colour to black and white.
The object that Jenn was grasping was distracting, so I used the cloning tool to pick up bits of the water image and superimpose it over the object.
Then I found that the recent sun on Jenn's face made it look too pink. I selected shades elsewhere on her to make the skin tones look more even. I also increased the intensity of the colour of her lips. (you can click the image to see a larger version)
Getting rid of the confusing ripples below her chin was a tricky bit. Again, careful use of the cloning tool removed the distracting water ripples.
Finally, I increased the contrast of the water and darkened it around the edges to highlight the subject.
What was only a snapshot (albeit a nice one) could now be a fashion plate for the company that made her swimsuit.
Beauty is beauty – wherever you find it.