Yes, I am stuck for a story, so I am heading for my garden.
Fortunately, I love taking photos nearly as much as I love to write. Finding the time to write something worth reading is my biggest problem. I have deadlines to meet for two magazine articles in ten days and I have not written a single word yet. My editor is patient, but I don't like to take advantage of that. I'd rather save up that patience until I really need it.
Fortunately again, the low angle of the rising sun was performing fanatical tricks with the flowers this morning.
This daisy was painfully pink in the warm morning sun. What caught my eye were the shadows of the yellow flowers on the pink whatchamacallits.
Maybe I should explain. A daisy is a kind of composite flower. The actual flowers are the little yellow bits in the centre. The outside petal-like thingies, which we normally think of as the flower petals are actually not part of the reproductive apparatus, but purely decorative. If you want to know more about composite flowers look here. At any rate, they are still very pretty: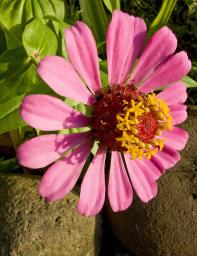 This is a variety of hibiscus that I think we call the Chinese Hibiscus. It always droops like this: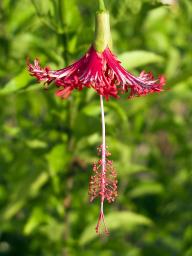 I've featured the beautiful orange lilies before. This morning the sun was striking this bloom from the side. The orange tone of the morning sun intensified the natural colour of the blossom: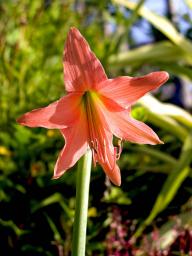 Once in a great while, serendipity intervenes in the photographic process. In other words, sometimes we get lucky.
Click this yellow flower photo and you will see something interesting: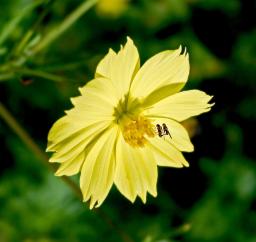 It was certainly not my intention to invade the privacy of this happy couple. Insects have the right to privacy as much as anybody does, I guess. Nevertheless, I'm going to take the risk of (a) being sued by them for invasion of privacy OR (b) being accused of posting pornographic images on my weblog.
They certainly chose a beautiful setting for their tryst. But, at 6:30 in the morning? They must be young.