Rasch Passage was calm and beautiful on Saturday. We dived there, took some surface time to enjoy the fine weather, and then went over to Wongat Island to dive the Green Dragon B-25 bomber.
At Rasch Passage, we were greeted immediately by a large school of Blue and Yellow Fusiliers (Caesio teres). These smallish fish (a little bigger than your hand) always travel in schools and seem attracted to divers. This mob swam around me several times before becoming bored: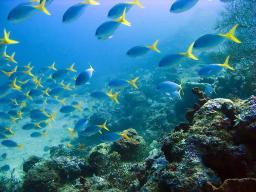 I caught a shot of three buddies finning ahead of me against the background of sky. The photo looked hopeless because of the slightly murky water, but I Photoshopped it unmercifully until I came up with something I call "The Alien Divers":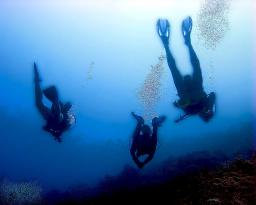 Over at Wongat Island, photos of the bomber proved to be too boring. I've taken about a gozillion shots of it and I'm a little tired. I did manage this nice, clear shot of the twin .50 Browning machineguns in the dorsal turret: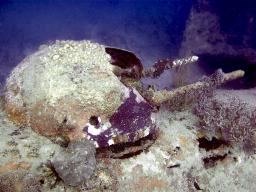 The water around the bomber was much clearer than it usually is. We could see nearly the entire fuselage.
You can usually find ribbon eels (Rhinomuraena quaesita) under the wings of the bomber. This one is a male. The juveniles are coal black with a white stripe where the yellow is on the adult. They wave about in the sluggish current catching food as it floats near them: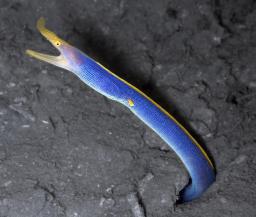 In the coral at the tail section, I caught this Humpnose Bigeye Bream (sub-adult Monotaxis grandoculis). I don't use flash underwater unless I can't get by without it. In this case, it worked out better with flash: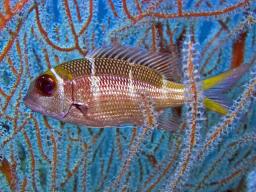 More exotic creatures awaited us as we made our way back up the reef to the mooring line. I caught this mantis shrimp (Odontodactylus scyallarus) in the open – a rare occurrence. He was foraging when he saw me and immediately ducked into a burrow. I crept up close and held my breath until I was getting dizzy. Finally, he stuck his head out long enough for me to get this shot: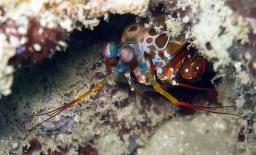 Mantis shrimp are strange creatures. They kill fish by punching them with their 'fists' – modified legs that are either like boxing gloves or clubs with spears attached. This picture is the same species that I once had in an aquarium. I used to feed it bits of frozen chicken. I once was showing off to some friends and decided to 'hand feed' instead of just dropping it into the tank. This was a huge mistake. The little creep speared my thumb. The hole was deep and pumped an astonishing amount of blood into the tank. I had to change the water.
Hermit crabs are so common that you could fill a hard disk quickly with photos of the little furry-legged fellows. This one deserves a little space because of the sheer cheek of its gaudy legs: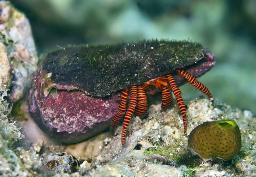 I'd love to have a pair of trousers with that pattern and colour. I'd wear them the next time I visit my therapist. I know just what she'd say. "How are those trousers working for you?"