Roaming around in my garden this morning, I was lured into my back yard by the warm sun oozing lazily around between the house and the big mango tree. I don't go around back much – that's haus meri territory. I'm not really allowed back there.
Here's the mango tree that is responsible for waking me thousands of times during the night when a half-kilo mango falls from five metres onto our iron roof (THUMP!):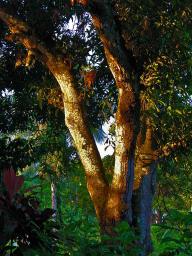 I turned around to walk back to the house and spied something that nearly made me jump out of my skin. I had no idea that there was a blue variety of hibiscus. The sun was lighting it from behind, so it looked like a bit of bright sky transplanted into my garden: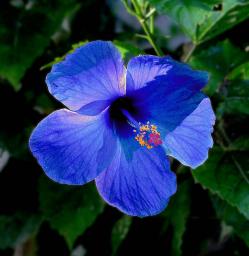 Okay, okay, I'm lying. There may be blue hibiscus somewhere. I just don't remember seeing any.
I was a little bored this morning and didn't seem to have a significant thought in my head, so I did what relaxes me most. As the Mythbusters guy, Adam Savage, says, "I reject your reality and substitute my own."
I decided to try to make a convincing Photoshop fake of this: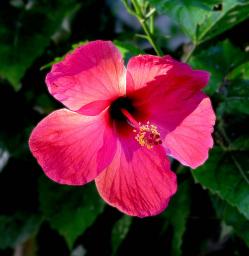 As you may gather, that is the original hibiscus.
Were you convinced at all? Just a little?