Posted in
At Sea
,
Dangerous
on August 27th, 2008 by MadDog
This morning I did something totally out of character for me. I got up at 05:15. That's remarkable by itself. What makes it stranger yet is that I got up that early to take a single photograph.
I needed a photo of the Coastwatchers Monument for a magazine article that's due tomorrow. But, I did not want the standard Coastwatchers Monument snap. I wanted something different.
Man, did I get different.
As I cruised past the Madang Resort Hotel, I took this shot. The sun was up just enough to give the sky a little colour, but the lights were still on. It took a lot of work to massage this one into life, but it was worth it – very moody – just the way I like it: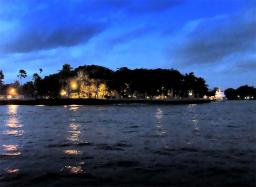 Heading out into Astrolabe Bay, I could see that the sea was a bit more rambunctious than I had hoped for. In fact, I was having a wonderful time just hanging onto the boat with one hand while shooting with the other. I must have taken about 300 shots.
Here's one that I like. You can see that the sea is a bit bumpy. Look carefully (click to enlarge) and you will see a rainbow circling the sun. I like the combination of the moody wine-dark sea and the cheeriness of the rising sun playing with the clouds: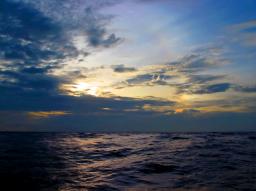 All this fussing around was just to get this shot: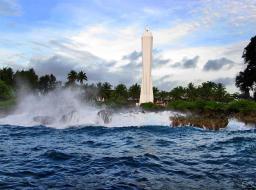 It is a bit different from the stock Coastwatchers Monument photo.
I finally had to back off from the confused waves close to the rocks. I was being knocked around so much that it was getting uncomfortable. Little Faded Glory is only about seven metres long. She's a game little tinnie, but I'd had enough bruises for one day.
Oh, my aching shoulder.