It has been a little over a week since the first progress report on our new Publishing and Training (Office Extension) addition. As project manager, I'm very happy with the accomplishments of the fellows from Lae Builders.
No point in being chatty about this – let's get to the photos.
Last week we saw the site preparations and digging the footing trenches. Here we see that the fellows have poured the footing, compacted the soil, laid the edge blocks, and put down the iron matting. I'm not a builder so I'm probably not using the right language, but the photo tells it all: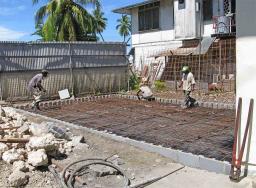 The next day the cement truck arrived. It was a very busy time. The truck is small, as you can see. I think it took three or four loads to pour the slab: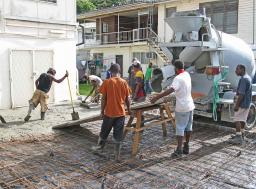 After they levelled it out, they got out their handy rotary trowel machine and smoothed it off very nicely: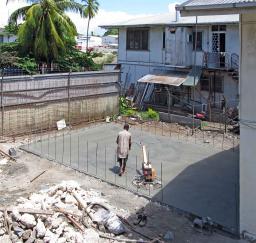 This is how it looked this morning. They already have three courses of blocks laid. They delivered the rest of the blocks this morning, so I expect that by next week's report, it is going to look much different: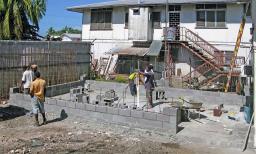 Hey, we're getting a building built here! It's amazing what can happen when you quit talking about something and just DO IT!
If you got this link in an email and you haven't seen our first report, you can find it here.