Saturday was a stunning day in Tab Anchorage. We went diving at Pig Island in The Eel Garden.
The sky and sun were cooperating nicely. Clouds were doing an imitation of lacy upside-down curtains above the purple Finisterre Mountains. It all looked so perfect that I half expected Karkar Island to blow itself to smithereens while I was facing the wrong direction with my camera: 

For readers not familiar with this view (you poor unfortunates), that is Madang Town over to the right where you can see the white smoke against the dark mountains. The big green area in the foreground is Kranket Island.
On the dive I saw these coral polyps that reminded me of daisies: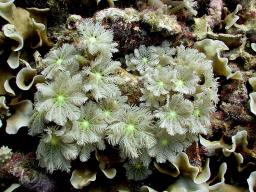 We passed over the giant anemone garden close to Pig Island on the south point. I got this nice little shot of a Clark's Anemonefish (Amphiprion clarkii):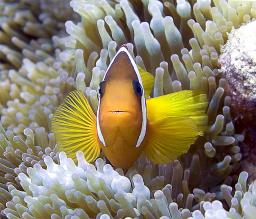 I'm sure that you are thinking something like, "How cute", or "Look! Nemo!", or some such nature loving sentiments.
What I want to point out here is its teeth. You'll probably have to click to enlarge. I did not Photoshop in those choppers! One can easily see the teeth of an anemonefish while diving, but they are a little hard to capture with a camera.
Man, I want to tell you that they are sharp. I have a scar on my right hand where one took a chunk out of me. It bled like crazy. I was holding pressure on the small wound because the blood might attract a shark or two.
Did you know that your blood is dark green when you see it underwater?
I'll have to get a shot of that someday. I guess I'll have to bleed again to do it.