At the end of last week's report, the workers had the first two rows of blocks laid.
Progress since has been steady, if not speedy.
Here's what it looked like early in the week: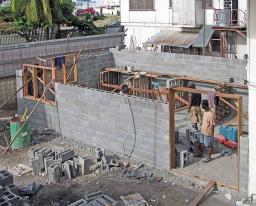 As you may have gathered, Papua New Guinea has the sobriquet of "Paradise".
We have Paradise everything. Here is a partial list from the telephone directory of companies that begin with "Paradise":
Paradise Adventure Tours
Paradise Arts
Paradise Arts & Handicrafts
Paradise Bakery
Paradise Brewers
Paradise Drilling
Paradise Foods Limited
Paradise Import Export Ltd
Paradise Interiors
Paradise Investment
Paradise Minerals
Paradise New Wewak Hotel
Paradise Private Hospital
Paradise Real Estate
Paradise Spice & Vanilla Exports
Paradise Security Services Limited
That last one is quite amusing on a couple of levels, if you think about it.
And, when a guy gets tired, he just has to sit down: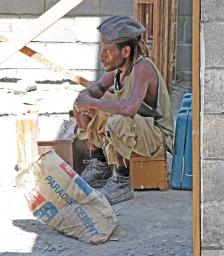 Notice the name on the bag of cement? (click the photo to enlarge)
Now, at the end of the week, it's really beginning to look like a building: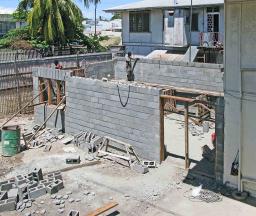 They are almost up to the end of the block level. The upper floor will be frame construction.
Here's a shot of Lori Witham, our Administrator of Publications standing in her new office with Lois Bayyom-Nai, our bookkeeper and general indispensable person for nearly twenty years.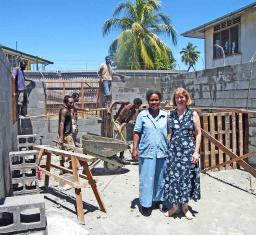 If you need to catch up, you can find the first report here and the second one here.