Part of the purpose of Madang – Ples Bilong Mi is to be our personal journal. Indeed, though I hope to entertain you, patient reader, and myself as I write, someday I will have built a treasure house of memories for Eunice and myself.
This post falls into that category – life's progression recorded digitally and locked away. It's more fun than a scrapbook and involves no stinky glue.
Back in April of this year we were packing up everything we had left in the USA to send it over to Madang. The rationale for this was simple. We never intend to live in the USA again, so there seems no point in keeping memorabilia there.
So, we packed up all of our 'stuff' and shipped it off, hoping to see it again someday. Of the two crates, one has now arrived. They were supposed to travel together for company, but the shipping agent miscalculated and now the crate containing the Harley is still at sea because it was put into a different shipping container that was destined for another ship.
This crate followed a rather torturous route beginning in Springfield, Illinois. From there it was trucked to JAARS shipping in North Carolina. JAARS used to stand for Jungle Aviation and Radio Services – as delightful an acronym as I've ever heard. It was then packed into a container and shipped to the west coast. I don't know where it visited in from there on, but it eventually ended up in Lae to clear customs. It was then accidentally trucked to Ukarumpa, from where it went back to Lae and then by Rooke's Marine truck to Madang. It ended up on Clint Rooke's little ute on its way to our workshop on Alamanda Crescent: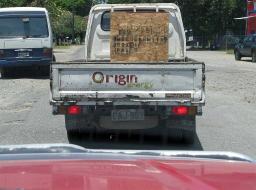 Clint's forklift then deposited it into our workshop: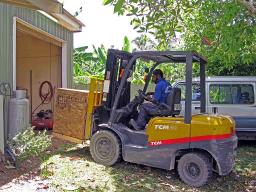 The next afternoon, Eunie and I started what we imagined to be a lengthy process of unpacking it. We had used several hundred long wood screws to assemble the crate, so it took a while to unscrew them all. Thankfully, we had an electric drill to take care of that task: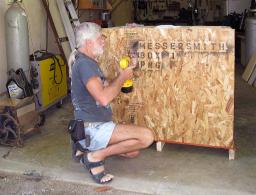 Nearly disassembled, we start to see the goodies inside (including my own treasured cargo of 1,200 cigars):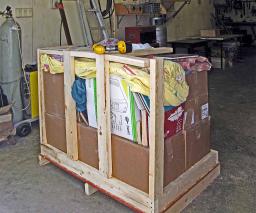 It took no time at all to load the stuff into our Navarra and drive to our house where Sheba was waiting to inspect it all: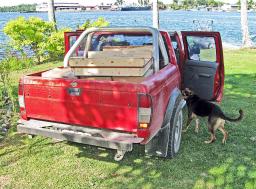 Elapsed time for unscrewing, disassembling, transferring, driving, and unloading: about an hour and a half. We celebrated our efficiency. It took days to make the crate and pack it.
Of course, the hard work is just beginning. Now we have to find room for all that stuff. Most of it will end up on display in some manner or other. If you have ever been in our house you know that it already resembles an overstuffed museum. I'll have to have some new shelves and cabinets built and clear some wall space.
Back in the USA there remains only a seemingly unsellable house and our precious 1973 Triumph Spitfire 1500.
It's good to have everything in one place now. It makes me feel truly settled for the first time in over three decades.
I can hardly wait for the Harley to arrive. I'm hoping it will be my Christmas present this year.