It's Saturday morning and it's raining. Bummer!
If I look out my window, I can just see a bit of clearing in the west, so I think that we will be okay for our regular 10:00 dive.
In the meantime, I've been sitting here since six o'clock waiting for something to develop in my brain. The Muse Thalia has her hand on someone else's shoulder.
Sitting here staring numbly at my screen, my eyes felt a tug of horizontal gravity* pulling them to a couple of photos I took some few days ago of ants. Ants appeal to me as photographic subjects. I guess it is because they are always so busy and it is surprisingly difficult to get good shots.
I watched this one attempting to climb the trunk of one of our Fishtail Palms. Those long black fibres were impeding his progress severely. Every time he would run into one, he would have to stop and figure out which way to go. I tried to read his tiny little ant mind. All I got was static and faint mumblings. "Hey, what's this – another one?" "Where is everybody?" "Now, where was I going?" "Oh, yes, up!" "Where's the W.C.?" "Who's the clown who left these things laying around?" Ants don't send out very strong vibes: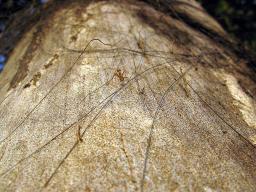 Don't let this little guy fool you. He's no ordinary ant. He's a muli ant. He will bite you until you dance a frenzied little dance and scream, "Get it off. Get it off!"
Just look at those fierce little black eyes, menacing antennae, sickle-like mandibles, upthrust abdomen – "Hey, YOU! Don't point that thing at me – get outta my face with that camera. Want a taste of formic acid? Yeah, I'm talkin' to YOU with the hair, you pathetic mammal!"
Feisty little guys: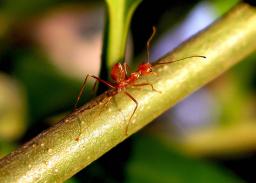 What's really comical is when you're traipsing through the bush and you run into some low hanging branch where they lie in wait. Wait until you get about a hundred of these little furies on you. Down your neck; in your hair. How do they get inside your underwear so quickly? The stink of formic acid makes your head spin. They're stinging and biting everywhere at once. It makes one want to scream, "Oh, please, I'm begging here, just throw some gasoline on me and set me on fire. GET THEM OFF!"
Trimming the hibiscus in our garden always proves to be hazardous duty. The ants stitch together leaves with spit or something to make a nest of sorts. I don't think that they breed in there. Maybe it's like a bivouac or a big camp meeting. They're probably all in there out of the rain singing, "Michael, row the boat ashore . . . halleluiah . . .":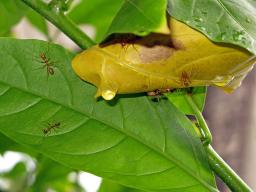 If you snip a branch with one of these bombs on it, you'll know in a second. Before you can even drop it, they will be swarming up your arm yelling, "Attack, attack! Eat the mammal, eat the mammal!"
Hey, I think I see a bit of sun out my window. I'd better get moving or I'll be late to pick up my divers.
*My body seems to be composed of some substance that is affected by a creepy kind of gravity that doesn't pull down, but rather sideways – and I can never tell which way it's going to pull. As I've aged, the effect grows more and more worrisome. I sometimes tumble in a heap to the ground for no apparent reason. My doctor, bless her heart, says, "Tsk, tsk" and rolls her eyes. My therapist offers pretty much the same diagnosis. Not helpful at all.