There are many kinds of rays. In the waters around Madang we see Manta Rays, Eagle Rays . . . even once a Guitarfish at the bottom of Magic Passage.
All rays are members of the taxonomic superorder Batoidea (batlike, I guess) of cartilaginous fishes containing over 500 distinct species in thirteen families. You'll probably remember that sharks are also cartilaginous fishes (they have no bones, just cartilage). However, sharks fit into a different place on the taxonomic tree. They are like cousins of the rays.
In the family Erwinadfatilus (true rays) the Blue Spotted Stingray (Dasyatis kuhlii) is the most commonly seen ray in these waters. Our favorite hunting ground for these potentially dangerous critters is on the sandy bottom around the wreck of The Henry Leith near Wongat Island.
On Saturday, we visited The Henry Leith and I got some of the best stingray action shots that I've managed so far. It is my pleasure to share them with you.
Here we see a Blue Spotted Stingray showing its usual hiding behaviour. It will sail in over the sand, drop to the bottom and flip its wings until the sand covers it. You usually cannot see its tail. This one has just started to be concerned about my approach and is lifting the outer edges of its wings in preparation for flight: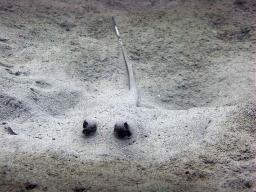 Here we see that it is becoming truly alarmed and is trying to make up its tiny stingray mind whether to split the scene or not: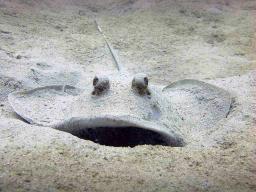 If you surprise a stingray, you'll quickly learn the error of your ways. They will leap up out of the sand with a snapping noise and flail around trying to get away from you. This is the cause of many injuries, sometimes fatal. Everybody knows the sad story of Steve Erwin, so I won't dwell on the danger aspect.
However, if you approach slowly, they will be able to think it over and decide how to escape and do so in their own good time. It makes sense from the perspective of the stingray, if you think about it. A rapidly approaching threat requires a hasty retreat with little regard for tactics. If a threat is approaching slowly, you might have a chance to sneak away quietly without drawing the attention of a potential predator.
Stingrays have probably read The Art of War by SunTzu.
"Okay, I'm outta here!"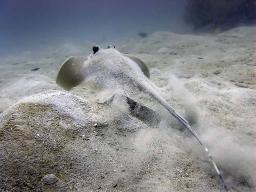 After gliding a few metres, this fellow decided that I was no longer a bother and started to settle back down into the sand: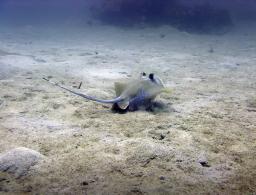 Until I approached once more. He then gently lifted up off the sand again to find another hiding place farther away: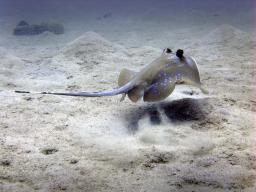 No experienced diver with a brain in his head would attempt to 'play' with any kind of stingray. This little fellow looks completely harmless and is, in fact, cute in an alien sort of way. However, if you look carefully at the last three photos (click any photo on this site to enlarge), you will clearly see the sting on the upper surface of the tail. This smallish ray in only a bit over a metre from nose to tail tip. I'm guessing that the barb is 6-10 cm long. That's enough to penetrate deeply into your body. Even a ray this small is potentially very dangerous.
I can't imagine anybody stupid enough to try to grab one of these little beauties. However, I will say that I have approached this species slowly and carefully hundreds of times with my camera and I have never been the least bit concerned for my safety. I must have spent, in total, about an hour holding my breath while taking stingray photos. Man, would I love to have a rebreather rig!
Part of the fun of diving thousands of dives over many years is learning from observation. You begin to understand the behaviours of creatures in different situations. It is one of many things in my life that produce those first few thoughts to come to my mind as I rise in the morning; I'm the luckiest guy on the planet.
Shalom, chaver.
Photographer's Note: I was very fortunate to be able to use available light for this series. The sun was directly overhead. We were in 18 metres of clear water with a bit of large particulate matter. I used a Canon G9 in a factory housing. I shot in the RAW mode (of course) with no flash. I used Adobe Bridge to open the file in Photoshop CS3 in the Camera RAW filter dialog. Having adjusted the colour temperature and tint sliders to the far right of their range, I opened the RAW files into Photoshop itself. At that point, I used Auto Equalize and then Auto Colour. Next I used the NoiseNinja Pro filter to clean up the grain. I then reduced the size to my standard web shot of 1280 pixels on the longest axis. I darkened the upper and lower edges to frame the subject. Finally I applied the Smart Sharpen filter to give me a pleasing level of sharpness. I saved the file as a JPG and adjusted the compression to end up with my standard web shot file size of about 200K and that's it – DONE! Only a couple of decades ago this would have been impossible to do without a major photo laboratory.